Illy Coffee Pods That Are Compatible With Nespresso and Keurig
Illy Coffee and the Art of Italian Coffee Making
In a hurry? This is the best Illy Coffee Variety Pack that is compatible with K Cup for Keurig.
A few years ago I went to Italy with a friend. We visited Tuscany, the Amalfi Coast, Rome and Venice. Wherever we came you could have a coffee at a small local café. The coffee always tasted better than anything else I've ever had before. I couldn't understand why. Was it the water? Was it always freshly ground? Was it that the beans were roasted just the day before? Was it the giant espresso machines? Or just the culture?
My trip to Italy really gave birth to my coffee interest. I did during the year that followed my best to once again experience the Italian espresso I fell in love with during my trip. But different giant espresso machines are not the trick. It's all about the bean! The perfect blend of beans, Italian roast – that's what determines the quality. Of course you can't take just any coffee bean and make it into a superior cup of coffee. Instead, it is the craft when processing the bean that decides the outcome. Illy blends nine different Arabic beans to bring out the unique, velvety, Illy flavor.
Illy Coffee Pods as a Way to the Artisan Italian Coffee Experience
The year after my Italy trip, I realized that the cups of espresso I drank had one thing in common. They were all made from beans by the Italian coffee maker Illy. In the photos from the trip you could see their red logo on the cups: Illy, it said. I immediately started searching online for coffee beans from Illy. On Amazon I found Illy's fine tin cans with beans in. I bought different varieties every month. Oh the joy!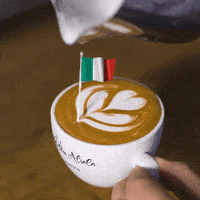 Illy Capsules That Are Compatible With Nespresso and Keurig
Illycaffè was founded by Francesco Illy almost 80 years ago in Trieste. The founder would probably not have believed that it 80 years later would be modern to use pre-prepared coffee pods to make a cup of espresso. When you think of Italian coffee, and especially of Illy, you think of a giant espresso machine with its characteristic sounds, the steam that is ejected from the valves, the beans that are ground and put in the filter holder. And then the magic sound of dripping down the smooth cup.
But more and more people have started drinking a cup of espresso from an espresso pod or capsule. And often either Keurig's machine or Nespresso's is used. Then the big challenge will be to find the best coffee pod for these machines, because it is not obvious that Nespresso's or Keurig's own pods are the best.
Lucky for us that Illy produces coffee pods that can be used in pod machines. The only drawback is they are not compostable. And that I actually tried and reviewed Illy's very best capsules. Here are the best pods you can actually order directly to your home.
And if you order enough packages, you can get one of Illy's own pod machines on the purchase. Italian design and Italian coffee every day. Who would say no to that?
---
Illy Nespresso Pods – Sampler Box
If you want to use Illy pods with your Nespresso machine, the assortment is just great. The aluminum illy pods are compatible with Nespresso Original coffee machines, except Nespresso models U, Umilk, Expert, Expert&Milk, Prodigio and Prodigio&Milk purchased after July 25, 2016.
I think the sampler box is a great start. You can only buy it online at illy.com. It's a 5-box bundle. But you can find the whole bunch on Amazon as well.
---
Illy Coffee Capsules in the Sampler Box
If you don't want to buy the whole 5-box bundle, you can buy the different individual roasts and blends. Here's the five different roasts in the sampler box, along with my comments.
Illy Dark Roast Coffee Pods
If you like dark roast coffee, you could try either the Intenso Roast or the Forte Roast. They are two bold roasts with notes of chocolate.
---
---
Espresso Compatible Capsules – Classico Roast
But it is for the red classic roast Illy is most famous. This pod coffee tastes almost as good as the espressos I drank in Italy. Of course, nothing beats the real thing, but you'll sure come close.
---
Espresso Compatible Capsules – Lungo
Sometimes you want a filter coffee like experience. In Italy it's called lungo. It is not an Americano, since an Americano is just an espresso with hot water poured in the cup afterwards. In a lungo all the water is brewed.
---
Illy Decaf Coffee Pods Compatible with Nespresso
Illy's Nespresso compatible DECAFFEINATO capsule is for all of us that sometimes enjoy a late night coffee, but still want to get some sleep. It actually tastes like the classico. And that can't be said for all decaf coffee pods.
---
Illy Coffee Keurig Pods
Since I don't use a Keurig coffee pod machine, I haven't actually tasted the coffee. But I still want to serve you with some valuable links if you want to take a look. So, if you own a Keurig capsule coffee maker and are looking for some great tasting coffee pods, just click on the images.
---
Illy iperEspresso Capsules For the Real Espresso Experience
For the very real Italian espresso experience, without the hassle of having to go through the whole barista ritual, an iperEspresso maker is a great alternative. You get a iperEspresso machine from Illy and use the iperEspresso capsules. The iperEspresso pods are not compatible with Nespresso or K-cup. But that is for a reason.
Nespresso is a much weaker coffee. In a blind test you would definitely pick the Illy espresso shot as the "real" espresso.
If you order an espresso from a barista, the shot will hold 7-8 grams of coffee and 30 ml of water. The iperEspresso capsule contains 7 grams, as opposed to a Nespresso, which is merely 5 grams. And the Nespresso machines put through 40 ml of water for a shot, while iperEspresso uses 30 ml.
If you subscribe to illyEspresso capsules, you actually receive this beautiful and retro-cool X7.1 iperEspresso machine FOR FREE! You'll save close to $300. The machine comes in Illy-red, black or chrome. It is equipped with a real Panarello steam wand which makes it really easy to froth milk for your creamy cappuccinos and lattes.
---
Illy ESE Coffee Pods
Last but not least, there's a system from Illy called E.S.E. I wanna talk about. The Illy E.S.E. pod system is pre-dosed filter pads you put in an espresso machine holder. You don't have to worry about tamper the right pressure on the grounds in the holder. It is already made for you. I find this particularely nice in the morning when I'm in a rush.
Illy E.S.E. Coffee Pods work with any espresso machine that'll take E.S.E. coffee pods. Like Illy's own. Or a De Longhi EC155 15 BAR Pump Espresso and Cappuccino Maker.
---
I hope you'll find som great tasting Illy coffee to your capsule coffee maker. Everyone deserves a taste of Italy!
Header photo by Derek Roberts
Coffee nerd from Toronto. Enjoys coffee before, during and after a nice meal. Engineer turned writer that started blogging at Wawee Coffee. And couldn't stop.